In-Office Surgery Options for Patients
Tuesday, 05 September 2023 00:00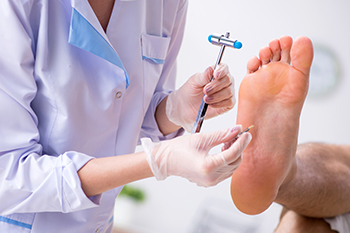 When it comes to foot surgery, an office-based surgical suite offers benefits for both patients and podiatrists. For patients, the convenience and comfort factor can play a significant role. Familiarity with the office environment, the staff, and the overall setting may help alleviate nervousness and promote a more relaxed experience. The cost of surgical procedures can be significantly reduced, and the avoidance of a hospital stay minimizes the risk of infection. Office-based surgical suites can benefit podiatrists, as well, by allowing them to save time so they can see more patients. Creating an office-based surgical suite starts with finding a suitable room, acquiring the necessary equipment, and training staff in surgical procedures, such as gowning, gloving, and instrument setup. While the process demands attention to detail, it's well within reach for doctors interested in creating a more patient-centered, cost-effective, and future-oriented approach to podiatric surgery. The transition to office-based surgery can help podiatrists ensure that patients receive top-notch care without the anxiety of high costs and hospital-related risks.        
If you are experiencing pain in the feet or ankles, don't join the stubborn majority refusing treatment. Feel free to contact Dr. Scott Shrem from Garden State Foot & Ankle Center. Our doctor can provide the care you need to keep you pain-free and on your feet.
What Is a Podiatrist?
Someone would seek the care of a podiatrist if they have suffered a foot injury or have common foot ailments such as heal spurs, bunions, arch problems, deformities, ingrown toenails, corns, foot and ankle problems, etc.
Podiatric Treatment
A podiatrist will treat the problematic areas of the feet, ankle or lower leg by prescribing the following:
Physical therapy
Drugs
Orthotic inserts or soles
Surgery on lower extremity fractures
A common podiatric procedure a podiatrist will use is a scanner or force plate which will allow the podiatrist to know the designs of orthotics. Patients are then told to follow a series of tasks to complete the treatment. The computer will scan the foot a see which areas show weight distribution and pressure points. The podiatrist will read the analysis and then determine which treatment plans are available.
If you have any questions please feel free to contact our office located in Hazlet, NJ . We offer the newest diagnostic and treatment technologies for all your foot and ankle needs.
Read more about What is a Podiatrist?